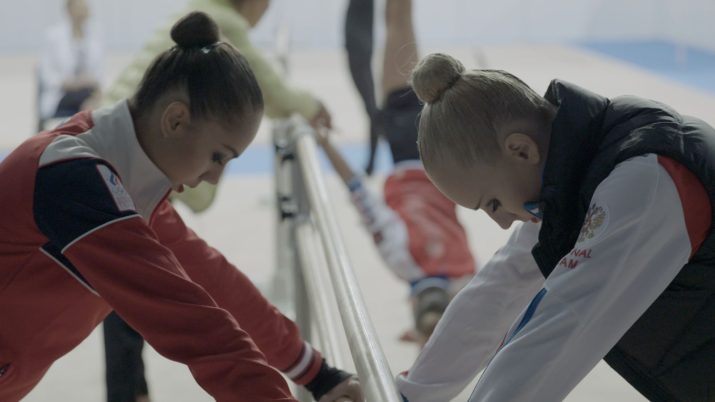 Marta PrusDeutschland, Finnland, Polen 2017 / 74 min
Rhythmische Sportgymnastik sticht vor allem durch ihre wunderschöne Ästhetik hervor. Wie das Training dafür aber physische und psychische Grenzen versetzen kann zeigt dieser eindrucksvolle Film über die letzte Hürde – Olympia Gold – der erfolgreichen Sportlerin Rita Mamun. Die russischen Trainingsmethoden sind fragwürdig, der immense Druck auf die junge Athletin ist in jeder Einstellung spürbar. Ein exklusiver Einblick in die russische Sportwelt – eine Story über Schmerz, Tränen und den Rausch des Erfolgs.
"the "Black Swan" of sports documentaries" "brilliant, diamond-hard" Variety
"scoring podium-level marks from juries and audiences alike" The Hollywood Reporter
"It's as intensely dramatic as even the most scripted fiction." Documentaries that will take 2018 by storm I-D VICE
Marta Prus
Marta Prus (Regie) wurde am 01.01.1987 in Warschau geboren. Als Kind war sie Mitglied in einem Sportclub für Rhythmische Gymnastik, später war sie Tänzerin im Hanna Kosiewicz Tanzstudio. Heute führt Marta bei Dokumentar- und Spielfilmen Regie. Ihre Ausbildung dafür absolvierte sie an der Łódź Film School. Zwei ihrer Dokumentarfilme, "Vakha and Magomed" und "Eighteenth Birthday", wurden auf Festivals weltweit mit Preisen ausgezeichnet. In Zusammenarbeit mit Telemark entstanden die Serie "Teen Mom Poland" sowie die Kurz-Doku "Talk to Me" für . 2014 erhielt sie den Wiesław Nowicki Prize für junge Filmkünstler.
http://docs.at/